When submitting a ticket, there are a couple of things that can be included that will help our developers in identifying and fixing an issue. Also, this may save some time in waiting for messages back and forth between you and the support staff.
Get Logs - Diagnostics:
Open the Warframe Launcher,
Click the little gear in the upper right corner
Click the Get Logs button
Let the process complete and look for a Warframe Logs folder on your desktop
Drag the "Warframe Logs" folder onto the 'attach file' field of your support ticket

​
Once uploaded you should see 3 files listed: ​

Note: Please reproduce the issue in-game first before running the diagnostics. If it is a matchmaking/network related issue, please run ​​​Analyze Network at in-game settings first prior to collecting the logs.
Video clips:
It might help us significantly and accelerate the speed we narrow down the issue if you can record how you encountered the issue and send the video clips to us. Please use Fraps or any other video capture software to record the issue, and then attach the clips to your ticket or upload them to OneDrive and share the link to us.
Screenshots:
A screenshot can really help us understand what you're seeing. It can also potentially help us to provide better support to other players who had the same issue.
You can capture a screenshot by pressing F6 in-game. The screenshots will then appear in your Pictures folder in your User account folder.
Default directory is: C:\Users\YourWindowsAccountNameHere\Pictures\Warframe or simply %USERPROFILE%\Pictures\Warframe
If you encountered an issue while updating the game, you can show it to us by using "PrintScreen" key on your keyboard to capture it, pasting it to Windows paint, and then attach it to your ticket.
WAR-#

number

If or when you experience your crash of Warframe, you should see an error window popped up mentioning the Evolution Engine crashing. Please complete the process and enter any details about what you were doing at the time of the crash. Once completed the crash reporting tool will give you an error number that will look like WAR-123456 With that we can start to narrow down your problem. For more detailed instructions, please click here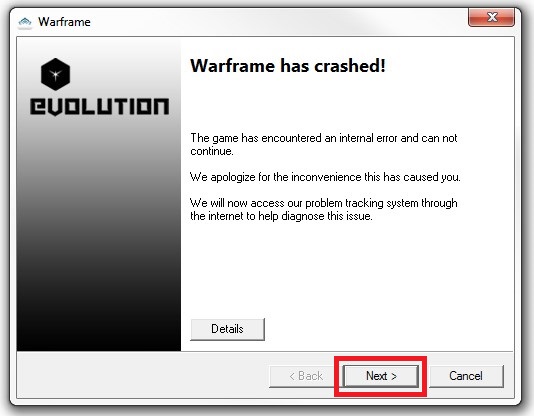 Crash DUMP file
If the game crashed without an Evolution crash window or it just automatically closed itself to the desktop without any window popped up, please click here for instructions on how to create a crash dump file.